Mobile application for employee & client.
Web based application can adjust with any screen size.
Blazing fast platform running on latest Microsoft Azure cloud platform.
API to control data from other systems.
Smart notification system across application.
Unique auto Email/SMS rule setup facility for company.
Daily Office summary reports for Admin.
Complete payroll management system with one click salary process facility.
Manage rules for leave, OT, Late coming, early going, Loan.
Role, Rights & Hierarchy to manage employee effectively.
Multi-currency wise account management.
Online payment gateway integration facility.
Time to time updation with user suggestions and advance technology.
Self-help support system with video & other materials.
Initially we handle deployment, data transfer, Configuration & training to all staff.
Initially for 15 days we assign dedicated product expert for better user acceptance.
We always a call away for help from any CAOA User.
Task auto recurrence and auto assignment process.
Sub task and department wise task management and allocation process.
Get task reports with all aspect.
Get many auto reports to Admin, Client & Work employee like on Start, Completion, Cancel or Due date related.
Manage Efforts, Costing and Margin for Service, Client and Employee wise.
Task history at one place.
Efficiently manage tasks/activities.
Transfer task facilities between employees.
Admin Task approval/Rejection system with easy process and notification.
Due Task and Sub task tracking system.
Help Module is also available for task and sub task.
You can manage office paperless with advance document management system.
Get any document by few click for Employee or Client.
Physical and Soft document management with Document tagging & File labeling.
Complete Inward & Outward management (With auto alert & Receipt) is also available.
Share Documents with your Clients in client login.
Find all documents for any particular task or client at one place.
Save all documents in digital format for each client.
You can set document tracking system for particular task of any client and also send notification for pending documents by one click.
All documents are safe with latest security system & there is not any chance to lose those data.
Send reminder Email/SMS to Client or group of clients from the application with single click.
Create Invoice with multy currency option.
Multy Company wise Invoice management.
Automatic reminders emails to client help to get paid faster.
You can also manage Invoice process by Proforma Invoice & payment Receipt option.
You can also manage reimbursement against client services.
You can get report of margin with expected and actual costing.
You can also manage day to day expences of your firm through patty cash management.
Client ledger with single click process.
Many Billing and Collection Reports with multiple search criteria.
Group wise client login management
Client database management with Client documents.
Manage clients by many tagging and on services base.
Easy to communicate with group of clients.
Client Multiple Contact Management.
Visitor register management.
Employee database management with employee documents.
Employee Role and Hierarchy management.
Track Employee login detail with Login IP Address.
Employee attendance management.
Detailed Timesheet to know the Employee time utilisation.
Get Each Employee's Work report for particular work or time period.
Internal Email facility to communicate with other employee or client.
Employee Conveyance management.
Employee attendance management.
Complete payroll management, Can create salary structure on CTC or Monthly base.
Employee Leave Management with different leave type and on monthly or yearly basis.
Employee Late coming, Early going, Leave pass policy management.
Employee Advance/Loan management
Holiday & Offday management
One click salary calculation facility with salary slip and auto notification system.
Can activate online payment by providing basic documents of your company to Payment Gateway company.
Client can directly pay his/her invoices from CAOA client login or followed by link given in Invoice.
Manage Appointment with Auto SMS & email Notification. Can manage appointment for self or for belowed team person. And get summary report on compition.
Manage To-Do with Auto SMS & email Notification. Can manage To-Do for self or for belowed team person. And get summary report on compition.
Manage Event management with Auto SMS & email Notification.
Set rules for auto Emai/SMS for particular date and time or event related to task, client & Invoice.
You can set rules like particular Email should fire on start of particular task, or Email should fire after 10 days of Invoice creation.
You can set frequency for Auto Email/SMS for particular time period like, Reminder Email should fire daily, from before 5 days of duedate untill completion of particular services.
Mobile Application with same features available on web applicaton for Employee & Client.
Easy way to get updated and to communicate with team.
Get Important Push Notification on user mobile screen with managable option.
CA Office Automation is cloud base solution, So you can access CAOA software from anywhere and anytime by using internet with advance security.
CA Office Automation helps to manage things effectively and on time by its cloud base solution.
Our Cloud Hosting partner is Microsoft Azure. We run our client's application on advance VPS with separate Database management.
There are more than 80 types of auto Email & SMS available in CAOA software like on starting of new task, on creation of new invoice, on generating new inward etc...
Can manage rules for auto Email/SMS Notification.
Manage Users access right by Powerful role management. Provide Relevant access to your Employees/User.
You can set hierarchy for reporting purpose.
Define Roles & Rules for your Firm & Set Access Level for each Role.
Company wise, Department wise, service wise margin Reports or Comparision reports with actual & expacted costing.
Client-wise Reports with all aspact.
Employee-wise timesheet & attendance Reports.
Task & Sub task wise wise Reports.
Document tracking & Inward Outward related Reports User Log reports.
Get any data or reports in Excel or PDF.
We are always a call away from any CAOA User.
Get Video Help tutorial for better unnderstanding.
Online Help of CAOA is available with full description and with video tutorials.
Offline Help of CAOA is also available with full description and with screenshot of all pages you can download it.
Online ticket system is also available to solve the problem of client.
Video Library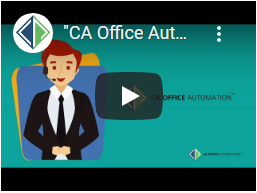 General
Purchase Help
General Features
Task Management
Account Management
Document Management
Employee Management
Client Management
Payroll Management
Online Payment Facility
Calendar Control
Email SMS Scheduler
Mobile app